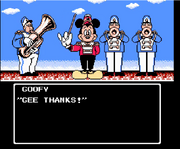 Conclusion is a concluding section of the game in which Mickey Mouse, Goofy, and Donald Duck celebrate the finding of the six Silver Keys and discuss starting the Parade.
1.)
"YOU FOUND ALL THE KEYS!
THAT´S GREAT!"
2.)
"GEE THANKS!"
3.)
"AT LEAST SOMEONE´S ON THE
BALL AROUND HERE! THANKS!"
4.)
"I BETTER GO OPEN THE
GATE. THE MARCHING BAND´S
WAITING."
5.)
"OKAY, EVERYBODY,
LET´S GO!"
Ad blocker interference detected!
Wikia is a free-to-use site that makes money from advertising. We have a modified experience for viewers using ad blockers

Wikia is not accessible if you've made further modifications. Remove the custom ad blocker rule(s) and the page will load as expected.