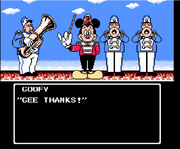 Conclusion is a concluding section of the game in which Mickey Mouse, Goofy, and Donald Duck celebrate the finding of the six Silver Keys and discuss starting the Parade.
1.)
"YOU FOUND ALL THE KEYS!
THAT´S GREAT!"
2.)
"GEE THANKS!"
3.)
"AT LEAST SOMEONE´S ON THE
BALL AROUND HERE! THANKS!"
4.)
"I BETTER GO OPEN THE
GATE. THE MARCHING BAND´S
WAITING."
5.)
"OKAY, EVERYBODY,
LET´S GO!"