Donald Fauntelroy Duck, often shortened to Donald Duck or even just Donald (which is what he is referred as throughout the entire game), is a popular Disney cartoon character as well as a character in Adventures in the Magic Kingdom.
Donald appears and is referred to in Prologue, Conclusion, and Ending. He is drawn with the same characteristics as his usual stereotyped appearance in other media.

Donald´s first appearance in the game is in Prologue.
Prologue QuotesEdit
1.)
DONALD
"DON´T WORRY, MICKEY.
LET´S GO TO THE CASTLE
RIGHT NOW!"
2.)
DONALD
"WHAT!? YOU MEAN WE GOTTA
FIND ALL SIX KEYS?
THERE´S NOT ENOUGH TIME!"
Prologue ReferencesEdit
1.)
"UH--WAIT A MINUTE,
DONALD. WE NEED SIX
SILVER KEYS TO OPEN THE
CASTLE GATE, AND, AH,
ConclusionEdit
Donald´s second appearance in the game is in Conclusion. Although Donald is never shown, it is still considered one of his appearances because in the Conclusion he has a role in the story and a line in the text.
Conclusion Quotes
Edit
1.)
DONALD
"AT LEAST SOMEONE´S ON THE
BALL AROUND HERE! THANKS!"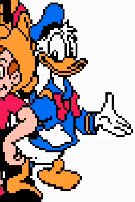 Donald´s last appearance in the game is in Ending. Donald stands completely idol to the left side of Player in this appearance.