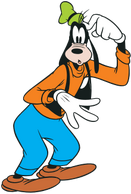 Goofy Goof, often shortened to Goofy, is a popular Disney cartoon character as well as a character in Adventures in the Magic Kingdom.
Appearances
Edit
Goofy appears in Name Select, Prologue, Conclusion, and Ending. He is drawn with the same characteristics as his usual stereotyped appearance in cartoons, movies, etc.
Throughout the game, there are also many text figures that resemble Goofy. These and Goofy are not to be confused.
Name SelectEdit
Goofy´s first appearance in the game is in Name Select. He is completely idol, for he is merely a decoration.
Goofy´s second appearance in the game is in Prologue.
Prologue Quotes
Edit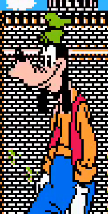 1.)
GOOFY
"AH--GAWRSH! I´M SORRY,
MICKEY! I MUST´VE LEFT IT
IN THE CASTLE."
2.)
GOOFY
"UH--WAIT A MINUTE,
DONALD. WE NEED SIX
SILVER KEYS TO OPEN THE
CASTLE GATE, AND, AH,
3.)
WELL--I´M NOT SURE WHERE
I LEFT THEM--BUT--THEY´RE
SOMEWHERE IN THE
ConclusionEdit
Goofy´s third appearance in the game is in Conclusion. Although Goofy is never shown, it is still considered one of his appearances because in Conclusion he has a role in the story and a line in the text.
Conclusion Quotes
Edit
1.)
GOOFY
"GEE THANKS!"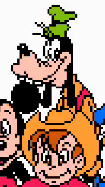 Goofy´s last appearance in the game is in Ending. Goofy stands completely idol behind Player in this appearance.