Mickey Mouse, often shortened to Mickey (which is what he is referred as throughout the entire game), is a popular Disney cartoon character as well as their official mascot whom is a major character in Adventures in the Magic Kingdom.
Mickey Mouse appears in Prologue, Conclusion, and Ending. He is drawn with the same characteristics as his usual stereotyped appearance in cartoons, movies, etc., although throughout most of the game, he is shown wearing a red marching band suit, black pants, and a long, red and white hat.
Throughout the game, there are also many text figures that resemble Mickey. These and Mickey are not to be confused.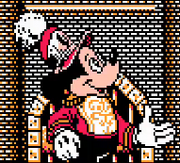 Mickey's first appearance in the game is in Prologue. Here it is notable that his head is an animation.
Prologue Quotes
Edit
1.)
MICKEY
"HEY, GOOFY! IT´S TIME
FOR THE BIG PARADE!
WHERE´S THE GOLDEN KEY TO
THE GATE?"
2.)
MICKEY
"MAYBE YOU CAN FIND THE
SIX KEYS FOR US!
FIVE ARE IN ATTRACTIONS
BUT YOU WILL HAVE TO ASK
3.)
I´M SURE YOU CAN DO IT.
BUT PLEASE HURRY! THE
PARADE CAN´T GO ON
WITHOUT THEM!"
Prologue References
Edit
1.)
"AH--GAWRSH! I´M SORRY,
MICKEY! I MUST´VE LEFT IT
IN THE CASTLE."
2.)
"DON´T WORRY, MICKEY.
LET´S GO TO THE CASTLE
RIGHT NOW!"
Conclusion
Edit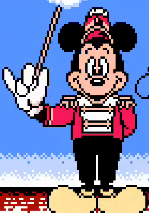 Mickey's second appearance in the game is in Conclusion. It is notable that his left arm is an animation.
Conclusion Quotes
Edit
1.)
MICKEY
"YOU FOUND ALL THE KEYS!
THAT´S GREAT!"
2.)
MICKEY
"I BETTER GO OPEN THE
GATE. THE MARCHING BAND´S
WAITING."
3.)
MICKEY
"OKAY, EVERYBODY,
LET´S GO!"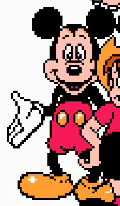 Mickey's last appearance in the game is in Ending. Mickey stands completely idol to the left side of Player in this appearance. It is also notable that Ending is the only part of the game in which Mickey is wearing his original outfit rather than his band outfit.