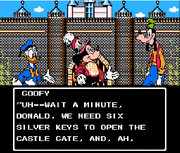 Prologue is an introducing section of Adventures in the Magic Kingdom in which Mickey Mouse, Goofy, and Donald Duck discuss the loss of the six Silver Keys and make a plan to find them.
1.)
"HEY, GOOFY! IT´S TIME
FOR THE BIG PARADE!
WHERE´S THE GOLDEN KEY TO
THE GATE?"
2.)
"AH--GAWRSH! I´M SORRY,
IN THE CASTLE."
3.)
"DON´T WORRY, MICKEY.
LET´S GO TO THE CASTLE
RIGHT NOW!"
4.)
"UH--WAIT A MINUTE,
DONALD. WE NEED SIX
SILVER KEYS TO OPEN THE
CASTLE GATE, AND, AH,
5.)
WELL--I´M NOT SURE WHERE
I LEFT THEM--BUT--THEY´RE
SOMEWHERE IN THE
6.)
"WHAT!? YOU MEAN WE GOTTA
FIND ALL SIX KEYS?
THERE´S NOT ENOUGH TIME!"
7.)
"MAYBE YOU CAN FIND THE
SIX KEYS FOR US!
FIVE ARE IN ATTRACTIONS
BUT YOU WILL HAVE TO ASK
8.)
I´M SURE YOU CAN DO IT.
BUT PLEASE HURRY! THE
PARADE CAN´T GO ON
WITHOUT THEM!"